Faculty / Industry Seminar 2017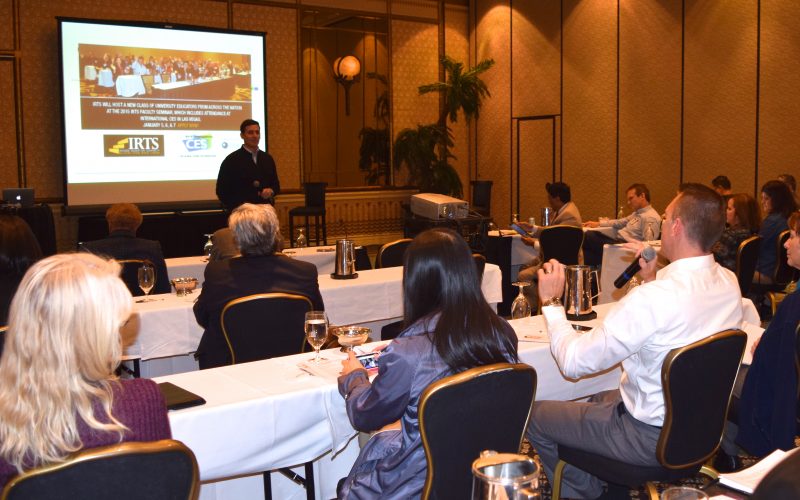 The 2017 Faculty Industry Seminar will be held
July 24 & 25
Applications will become available online soon
The History of the Faculty/Industry Seminar
2017 marks the 46th Anniversary of the IRTS Faculty/Industry Seminar, which started in 1971 with speakers that included the legendary John Chancellor and Howard Cosell. Letters from more than a thousand professors in our archives reflect Dr. Peter Pringle's sentiment that "the Seminar is the most instructive and exhilarating experience available to faculty". The goal of the program is to keep teaching timely and relevant by introducing top educators to media leaders and decision makers.
Historical highlights from the seminar reveal the incredible evolution that has taken place in our business. For example, John Malone, as the head of TCI, first unveiled the concept of the 500-channel universe before our faculty in 1993. One year later, Ray Smith, the head of Bell Atlantic, took center stage to talk about the pending merger with TCI. The merger never happened, but seven years later, Leo J. Hindery, Jr, who was President of TCI when the company did merge into AT&T in 1997, gave a speech that professors labeled "the most valuable hour of the seminar." At the time, Leo Hindery was President and CEO of the YES (Yankee Entertainment and Sports) Network.
IRTS Faculty/Industry Seminars read like chapters in an electronic media history book. Little did we know in 1988 that IRTS Seminar Chairman Gerald Levin from Time Inc. would return to our platform in 2001 as the Chairman of AOL Time Warner; or that MTV founder Bob Pittman, who spoke in 1991, would be the merged company's COO. For that matter, when Viacom Chairman Sumner Redstone spoke at our 1994 conference in the midst of the Paramount merger, no one imagined that Viacom would later merge with CBS. By meeting the industry's visionaries, IRTS Faculty really get a unique understanding of what drives the business that their students are about to enter.
Professors have met with former network Entertainment Chiefs, ranging from Fred Silverman and Mike Dann, to the late Brandon Tartikoff and Bob Iger to hear about programming strategies. They analyzed Ted Turner's business style one year, while the famed "Mouth of the South" agreed to silently sit in the back of the room.
In 1996, the IRTS Faculty/Industry Seminar was part of the lead story on the CBS Evening News the day the Telecommunications Act was signed into law. New York Mayor Rudolph Guiliani presented us with a proclamation that morning naming the day in our honor, and Senator Joseph Lieberman, who later became a Vice Presidential candidate, was one of our speakers.
It's been an amazing 42 years thanks to performers such as Sammy Davis, Jr. and The Raspberries; program producers and/or writers such as Michael Davies, Agnes Nixon, Tom Werner, and Dick Wolf; and journalists such as Hugh Downs, Jessica Savitch, Mike Wallace, and Brian Williams. We are not only grateful to the hundreds of professionals who have spoken at our conference, but also to the many companies which have hosted on-site visits. Faculty have checked out the advent of Madison Square Garden's HDTV facilities, witnessed Michael Bloomberg's unique corporate culture, met with the entrepreneurs of Silicon Alley, and chatted with Dan Rather of CBS News before he went on the air. Hearst's Frank Bennack, Jr., and former NBC CEO Jeff Zucker are some of the many leaders who have done private question and answer sessions with IRTS Faculty attendees.
Our event also featured an almost-annual appearance by one of the greatest figures in broadcast history, CBS President Emeritus Dr. Frank Stanton, the legendary champion of First Amendment Rights for Broadcasters. Dr. Stanton personally presented an award IRTS gave in his name for outstanding contribution to electronic media education until he was well into his nineties and moved out of state.
At IRTS Faculty Seminars you never know what to expect. Professors find themselves being whisked through the doors of Google's New York office one year, before meeting with the Imagineers of Disney in Burbank the next. IRTS President & CEO Joyce Tudryn keeps reinventing the program each year to make sure those responsible for teaching the next generation have access to our industry's best!