2017 Summer Fellowship Program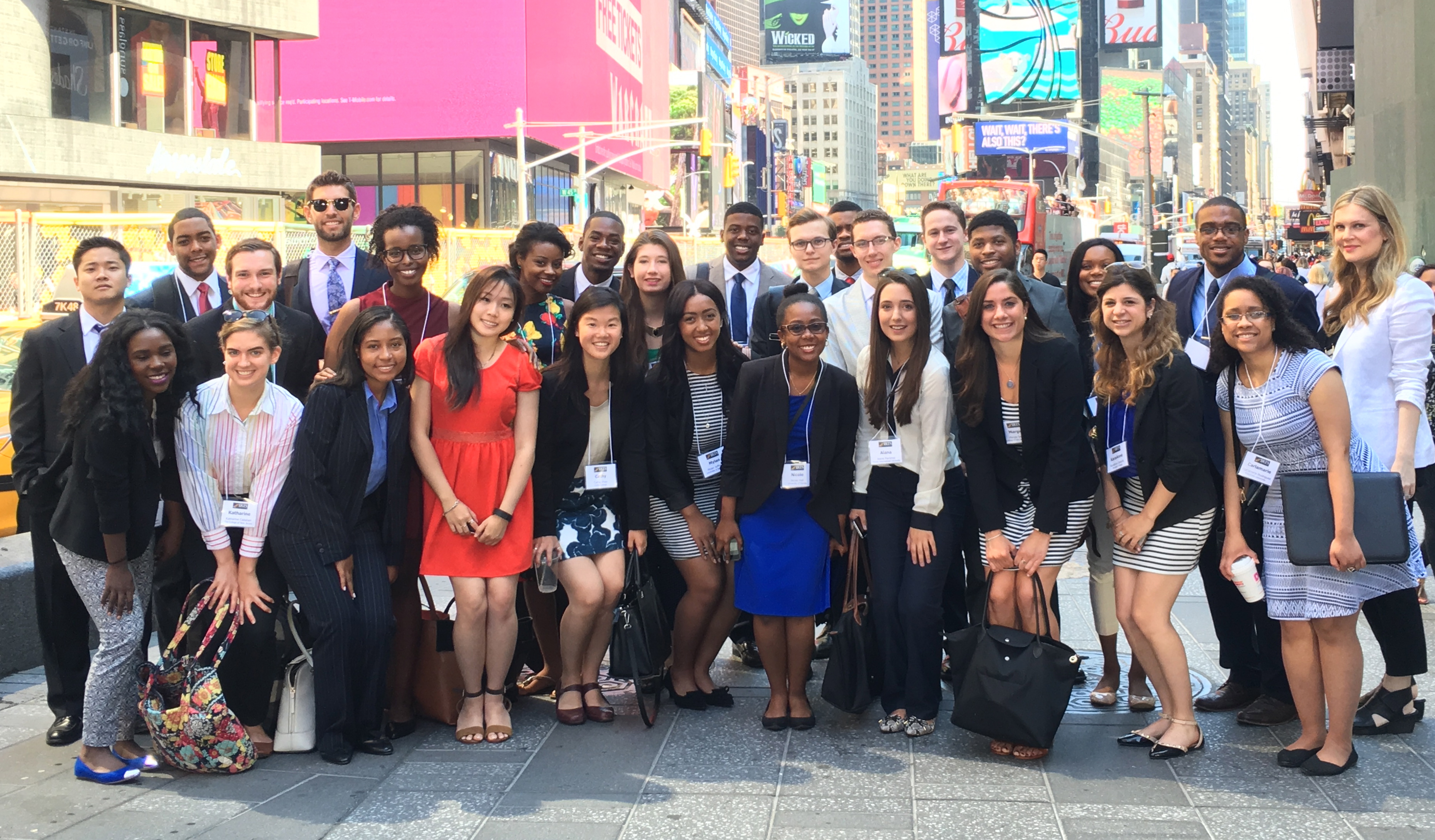 When: June 4 – August 5, 2017 
Where: New York, New York
The 2017 general application deadline has passed. Please return in Fall 2017 to apply for the 2018 Summer Fellowship.
THOSE SELECTED FOR THE FELLOWSHIP RECEIVE:
Round trip travel to and from NYC. (air, train, or driving mileage reimbursement)

Housing at a downtown Manhattan university dormitory in a shared suite setting.

A living allowance to defray cost of food and personal expenses.

A full-time internship at a top New York media company that aligns with a student's interests and career goals.

Weekly events including panel discussions, company visits and speakers.

The IRTS Foundation also provides extensive career counseling and networking opportunities to ensure that each student makes the most of this New York experience!
To meet the 2017 class of Summer Fellows, click here!
APPLICATION PROCESS
The 2017 application has closed! Please return next year to apply via our online application protal.
Applications Due: Thursday, December 1st by midnight Eastern Standard Time.
 Those submitting applications by the deadline will be alerted if they advance to the 2nd round no later than January 20, 2017.
PROGRAM DETAILS:
Expense-Paid Opportunity: Travel, housing, and living allowance included.
Eligibility: Extremely competitive. Students must be college juniors, seniors, or graduate students as of April 2017.
Accomplished students from all majors (including math, computer science, business, marketing, communications, etc.) are encouraged to apply.

The Summer Fellowship Program is the cornerstone program of the IRTS Foundation. Often referred to as a "media boot camp," this highly selective program teaches a talented group of up-and-coming communicators the realities of the business world through an all-expense-paid internship in New York City, which includes practical experience and career-planning advice.
The IRTS Summer Fellowship Program has had a key role in launching the careers of top professionals in the media business for more than 45 years. This nine-week expense-paid opportunity begins with a comprehensive one-week orientation to cable, broadcasting, advertising, and digital media. Fellows have a rare opportunity to question a stellar line-up of industry leaders at company visits, panel discussions, and negotiation simulations. Following this first week, Fellows gain full-time "real world" experience at New York-based media corporations to which each is assigned for the duration of the Fellowship. Throughout the summer, Fellows also learn how to successfully network by attending industry events and by conducting informational interviews with executives.
Participants emerge from this program with a strong understanding of our entire business, along with carefully honed skills in career planning, resume writing, and interviewing. Fellows are then able to reinforce or redefine specific career goals before starting a career within the media industry.
PAST FELLOWSHIP EXPERIENCES
Where have IRTS Fellows interned in the past? (These are just some examples.)
Nielsen
Google
MSNBC
AMC Networks
Facebook
Horizon Media
Young & Rubicam
Tremor Video
Giant Spoon
MediaVillage
Initiative
Verve Mobile
Fullscreen
Spotify
Turner
Havas Media
CNBC
Unilever
GroupM
CBS News
ABC's "Good Morning America"
Nickelodeon
Viacom
Sony Music Group
Walt Disney Studios Motion Pictures
AOL
Creative Artists Agency (CAA)
NBCUniversal
Interpublic Group
Initiative
MediaCom
CBS Radio
Simulmedia
Katz Media Group
ABC National Television Sales
CBS Television Station Sales
New York 1 News
MTV News
VH1's "Big Morning Buzz Live"
Bloomberg Media
Ogilvy & Mather
Comedy Central
CNN
Sesame Workshop
ESPN Research & Sales
Fox News Channel
WABC Radio and TV
Westwood One
Grey NY
HBO
Nick Jr.
WCBS News (Special Broadcasts)
Wee Beastie
ITV Studios America
MLB.com – Fan Cave
CBS Interactive
Half Yard Productions
BrightLine
CoxReps
WOR Radio
Logo TV
Radical Media
MediaVest
DIRECTV
Al Jazeera English
Ish Entertainment
WPIX News
Sharp Entertainment
Deep Focus
Discovery Communications
The Ad Council
WNYC
NBC Sports
Wieden + Kennedy
NBC's "Nightly News"
ZenithOptimedia
PHD
Fuse TV
WNET – Channel 13
BRAVO
Part2 Pictures
The part of the Fellowship program that I found most valuable personally is purely all the fun NYC activities that I participated in with all of the Fellows over the summer – we bonded over food, music, sports, etc. And the part of the program that I found most valuable professionally was my internship placement – I literally learned something new or interesting every week. The IRTS Summer Fellowship Program is a once in a lifetime experience given to bright individuals who are up to the challenge. If you want to be successful, strive to be an IRTS Fellow and spend the ultimate summer in New York!
The IRTS Summer Fellowship Program is an opportunity to build a solid launching pad for your career. If you go about it the right way, you will complete the program with valuable hands-on work experience and a wealth of contacts that are genuinely interested in your personal and professional development.
"Without a doubt, the IRTS Summer Fellowship is one of the most prestigious opportunities available for future communications leaders. It provides resources and nurtures your talent as you develop into an engaged and active participant in the media industry. Orientation Week will definitely be one of the most exhilarating and exciting weeks of your life. It is a veritable media boot camp, where you're treated nonstop to nearly every facet of the industry."
"The Fellowship takes the brightest and most promising students in media from across the country and places them right in the heart of the industry. It's an all-encompassing immersion in the state of media today and all of the opportunities available in it. It's the experience of a lifetime."
No dream is impossible with the help/push that IRTS gives its Fellows. It's truly everything you need to become what you want and take control of your future career.
That summer changed my life. Orientation week is intense…be prepared to see every aspect of media at their highest levels. I would literally not be anywhere close to where I am now had it not been for IRTS – my life is forever changed.
Being selected for the Fellowship is like unwrapping a Wonka bar to find a golden ticket, granting instant access to the world of industry executives and the chocolate factory that is NYC!
For complete profiles on the class of 2017 please click here: 2017 FELLOW BIOS
2017 IRTS SUMMER FELLOWS
Jaclyn Abrahante, Florida International University, IRTS Summer Fellow Sponsored by NBCUniversal
Kevin Abreu, Montclair State University, IRTS Summer Fellow sponsored by National Academy of Television Arts & Sciences
Thomas Austen, Syracuse University, IRTS Summer Fellow sponsored by National Academy of Television Arts & Sciences
Nora Bess, University of Texas at Austin, The IRTS Helen Karas Memorial Fellow sponsored by Dan Karas and Rick Sirvaitis
Rachael Bouley, Arizona State University, IRTS Summer Fellow sponsored by Hubbard Broadcasting
Emily Bowman, College of the Holy Cross, The IRTS College of the Holy Cross Fellow sponsored by Crown Media Family Networks
Imelda Burgan, The New School, The Thomas S. Murphy Fellow sponsored by ABC National Television Sales*
Casey Carty, College of the Holy Cross, IRTS Summer Fellow sponsored by Turner
Kahlita Finger, Temple University, IRTS Summer Fellow sponsored by Facebook
Faith Gamble, Ohio State University, IRTS Summer Fellow sponsored by Facebook
Lanier Gray, University of North Carolina at Chapel Hill, IRTS Summer Fellow sponsored by Jason Krebs & Debra O'Connell*
Cole Johnson, University of Iowa, The University of Iowa/Jerry Feniger Memorial Fellow sponsored by Friends of Jerry Feniger
Jackson Kurtz, University of Kansas, IRTS Leibner Cooper Summer Fellow sponsored by Leibner Cooper Family Foundation
Ariel Leconte, Syracuse University, The IRTS Neil Postman Memorial Fellow sponsored by Jack Myers
Robert Lemus, University of Florida, The IRTS Thom Casadonte Memorial Fellow sponsored by Bloomberg
Nicholas Lewandowski, University of Tennessee, Knoxville, The Perry Sook Fellow sponsored by TVB
Melanie Lockett, University of Pennsylvania, IRTS Summer Fellow sponsored by ESPN
Samantha Mayhew, Pennsylvania State University, The IRTS Ari Bluman Memorial Summer Fellow sponsored by GroupM
Melanie Mueller, University of Florida, IRTS Summer Fellow sponsored by Horizon Media
Shad Murray, University of Texas at Austin, The Mark Mackenzie Memorial Fellow sponsored by Friends of Mark Mackenzie
Michelle Nwokedi, University of Pennsylvania, The IRTS University of Pennsylvania/Lou LaTorre Fellow sponsored by Bruce Lefkowitz
EJ Paras, The College of New Jersey, IRTS Summer Fellow sponsored by Google
Sharon Park, Northeastern University, IRTS Summer Fellow sponsored by Viacom
Alexandra Patterson, University of Notre Dame, IRTS Summer Fellow sponsored by Turner
Sharmin Rahman, Syracuse University, IRTS Summer Fellow sponsored by Simulmedia
Treasure Roberts, Michigan State University, IRTS Summer Fellow sponsored by Rajah Maples
Lauren Smith, Xavier University, The IRTS Leslie Moonves Fellow sponsored by CBS Television Station Sales*
Dymond Spells, Alabama A&M University, The IRTS Sumner M. Redstone Fellow sponsored by CBS Television Station Sales*
Michael Tatar, Brooklyn College, The IRTS Brooklyn College Fellow sponsored by Scott Herman
Erin Torres, Fordham University, The IRTS Joanne Mercado Memorial Fellow sponsored by Nielsen
Eric Uzick, University of Texas at Austin, IRTS Summer Fellow Sponsored by Fox Networks
Becca White, University of Florida, IRTS Summer Fellow sponsored by Turner
Ariana Yaptangco, City College of New York, The IRTS City College of New York Fellow sponsored by Betsy Frank
*IRTS Broadcast Sales Associate