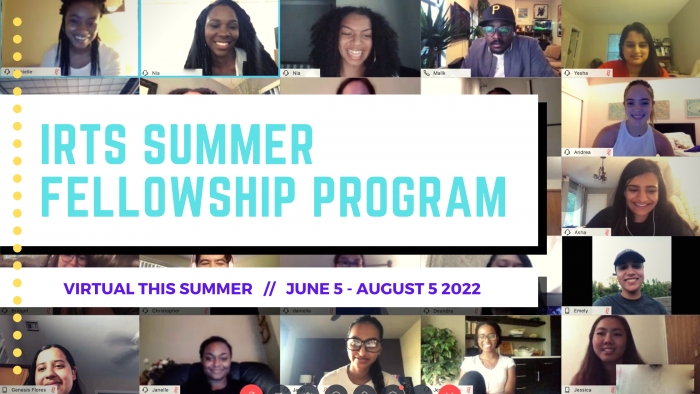 QUICK LOOK:
In-person, expense-paid orientation week in NYC (subject to pandemic status)
Paid, remote internship at a media company
Virtual sessions with top media industry companies
Mentoring and unparalleled access to the IRTS network
WHAT IS THE IRTS SUMMER FELLOWSHIP PROGRAM?
The IRTS Summer Fellowship Program has played a key role in launching the careers of top media professionals for 50 years. Highly praised throughout the media industry, the IRTS Foundation's Summer Fellowship Program has provided unparalleled access and education to diverse, aspiring young media professionals from across the country.
Throughout the 9-week Fellowship Program, accepted applicants will learn industry insights from top executives, mid-level managers at some of our industry's most dynamic companies, and media professionals only a few years removed from Fellows' current experiences.
The Fellowship will begin with an expense-paid orientation week in NYC (subject to pandemic status) followed by remote internships and virtual sessions for the duration of the summer.
The 8-week internship portion of the program that follows orientation week will be remote from your home base. This ensures a smooth uniform program as companies continue to transition to new business models where employees work from home part-or-all of the time and office space is being consolidated.
Most importantly, 2022 Fellows will have unparalleled access to the IRTS network, an incredibly supportive community of peers spanning more than five decades of Summer Fellowship alumni.
VIRTUAL EXPERIENCE
Each Fellow will be assigned a dynamic, paid internship at a media company. Placements will be determined in Spring of 2022.
INDUSTRY INSIGHTS
Fellows will gain a comprehensive view of the media industry through dozens of exclusive meetings with IRTS' vast network of alumni, Board Directors, and other top media professionals.
Fellows will gain insight into how companies operate, how to navigate those organizations, and how to identify the types of people & opportunities best suited to launch their careers.
The Program will begin with an expense-paid orientation week in NYC (subject to pandemic status). Fellows will have the rare opportunity to question a stellar lineup of industry leaders, gain key industry knowledge through panel discussions, and participate in group activities and events.
PROFESSIONAL DEVELOPMENT
Fellows will enhance their networking skills through numerous informational interviews with industry professionals.
Fellows will learn proper correspondence, portfolio and resume best practices, and many more professional skills through 1-on-1 meetings, all while exploring their career interests and learning about career opportunities they may not have previously known existed.
COMMUNITY BUILDING
What sets IRTS apart, year after year, is its supportive, diverse community. IRTS will help 2022 Fellows build their own community of peers, while also engaging with the broader IRTS network.
Fellows will invest time not only in their own futures, but also in those of their peers. In getting to know one another, the Fellows will create a supportive and fun community over the course of the program.
Accomplished students from all majors, including advertising, business, communications, data science, information technology, journalism, math, production, public relations, etc., are encouraged to apply!
You must be a current junior, senior, or grad student who has not graduated prior to April 2022.
All applicants must demonstrate a sincere interest in pursuing a career in the media industry, either through on-campus or internship experience, personal projects and work, or through their application essays.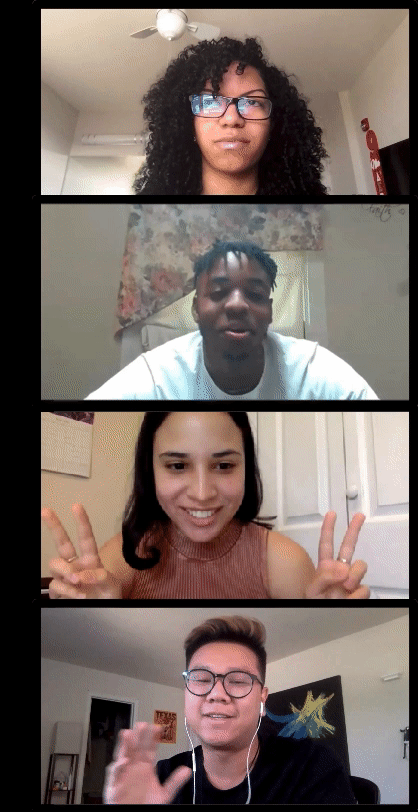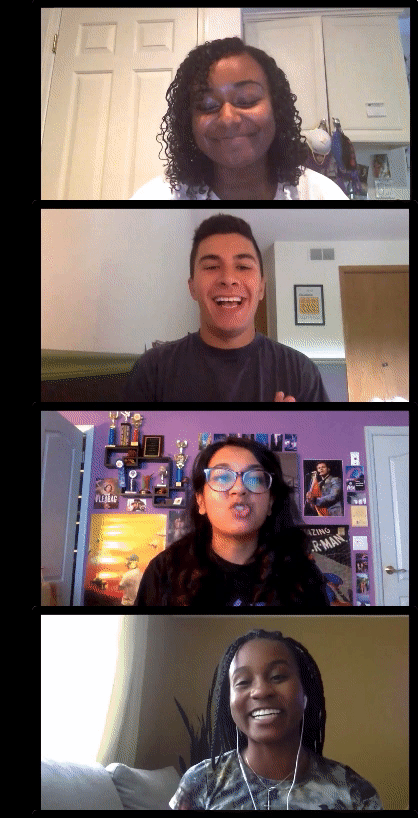 IRTS SUMMER FELLOWSHIP ALUMNI.
In the Summer Fellowship Program's 50 years of history, IRTS is very proud to have provided once in a lifetime experiences for hundreds of young professionals! Once a member of the program, our IRTS Summer Fellows create lifelong connections with their peers and the media industry as a whole.
PREVIOUS PLACEMENTS
ABC News
Good Morning America
Al Jazeera English
AMC Networks
AOL
Bloomberg Media
Branded Entertainment Network (BEN)
BRAVO
BrightLine
CBS Interactive
CBS News
Station Sales
CNBC
CNN
Comedy Central
CoxReps
Creative Artists Agency (CAA)
Deep Focus
DIRECTV
Discovery Communications
Disney Advertising Sales
Entercom
ESPN
EPIX Entertainment
Facebook
Fox Networks
Freeform
Fullscreen
Fuse TV
Giant Spoon
Google
Great Big Story
Grey NY
GroupM
Half Yard Productions
Havas Media
HBO
Hearst Television
Horizon Media
Huffpost
Initiative
Interpublic Group
iNvolved Media
Ish Entertainment
ITV Studios America
Katz Media Group
Logo TV
MediaCom
MediaVest
MediaVillage
MLB.com – Fan Cave
MSNBC
MTV News
National Academy of Television Arts & Sciences (NATAS)
NBC Sports
NBC's Nightly News
NBCUniversal
New York 1 News
Nick Jr.
Nickelodeon
Nielsen
Ogilvy
Part2 Pictures
PHD
Radical Media
Sesame Workshop
Sharp Entertainment
Simulmedia
Sinclair Broadcast Group
Sony Music Group
Spotify
Soledad O'Brien Productions
TED
The Ad Council
Tremor Video
TVB
Unilever
Verve Mobile
VH1's Big Morning Buzz Live
ViacomCBS
VMLY&R
WABC Radio & TV
Walt Disney Studios
WarnerMedia
WCBS News
Wee Beastie
Westwood One
Wieden + Kennedy
WNET – Channel 13
WNYC
WOR Radio
WPIX News
ZenithOptimedia
ALUMNI QUOTES
"No dream is impossible with the help/push that IRTS gives its Fellows. It's truly everything you need to become what you want and take control of your future career."
LINDSEY GRANGER, 2009 Fellow and current Host, "Daily Blast LIVE"
"Without a doubt, the IRTS Summer Fellowship is one of the most prestigious opportunities available for future communications leaders. It provides resources and nurtures your talent as you develop into an engaged and active participant in the media industry. It is a veritable media boot camp, where you're treated nonstop to nearly every facet of the industry."
DANIEL HAACK, 2009 Fellow, Author, and current Creative Executive (Kids) for MTP, Inc., at Google, Youtube
"The IRTS Summer Fellowship Program is an opportunity to build a solid launching pad for your career. If you go about it the right way, you will complete the program with valuable hands-on work experience and a wealth of contacts that are genuinely interested in your personal and professional development."
ARNELL DAVIS, 2010 Fellow and current Marketing Lead, Consumer Products at Netflix
"That summer changed my life. The Fellowship is intense…be prepared to see every aspect of media at their highest levels. I would literally not be anywhere close to where I am now had it not been for IRTS - my life is forever changed."
KEITH KROPSKI, 2011 Fellow and current Team Lead at 10up
"The Fellowship takes the brightest and most promising students in media from across the country and places them right in the heart of the industry. It's an all-encompassing immersion in the state of media today and all of the opportunities available in it. It's the experience of a lifetime."
GENIE ALFONZO, 2011 Fellow and current Product Marketing Manager at Instagram