The IRTS Brooklyn College Fellowship Sponsored by Scott Herman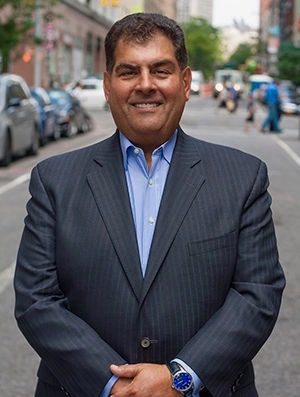 "I am blessed to call Scott my friend. I wouldn't be on the path that I am now if it wasn't for Scott."
"Scott is an extremely humble and warm soul. He really believes in seeing his Fellows succeed, even beyond the fellowship."
"He's just a Brooklyn guy, keeping a Brooklyn mentality."
IRT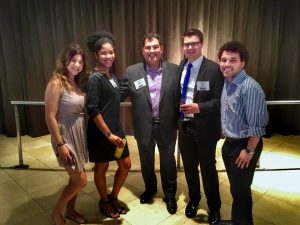 S is delighted to name this Fellowship in honor of Scott Herman, whose experience in the radio broadcast industry (39 years!) is rivaled only by his longtime involvement with IRTS. A benevolent behemoth, Scott sets an example for others that we hope our IRTS Fellows continue to follow; he leads with humanity, kindness, and most importantly, Scott leads through example. A strong advocate of giving back to your community, Scott sponsors this Fellowship in the hopes of both providing opportunity to young professionals as well as encouraging senior industry members to mentor the next generation.
The IRTS Summer Fellowship Program has had a key role in launching the careers of top professionals in the media business for more than 45 years. University students competitively apply for this nine-week, expense-paid opportunity that includes travel, accommodations, and a paid full-time internship at an assigned media company. The program begins with a comprehensive one-week orientation to the industry during which Fellows have a rare opportunity to question a stellar line-up of industry leaders during company visits, panel discussions, and negotiation simulations. Throughout the summer, Fellows also learn how to successfully network by attending industry events and by conducting informational interviews with executives. The IRTS provides extensive career counseling and weekly after-work seminars throughout the experience.
SCOTT HERMAN is a Brooklyn native through and through, attending public school in the borough before graduating from Brooklyn College with a bachelor's degree in Television and Radio. Though initially enrolled as a psychology major, Scott switched to the radio/TV track after becoming involved in WBCR, Brooklyn College's radio station. It was during Scott's time at WCBR that he met Sister Camille D'Arienzo, a professor at Brooklyn College and Scott's first mentor in radio broadcasting. Scott refers to his time with her as "Thursday With Sister Camille," likening his experience to the book, Tuesdays With Morrie.
In addition to stoking Scott's passion and skill for radio broadcast, Sister Camille also connected Scott with his first professional radio experience; an internship-turned job at 1010 WINS, owned by Westinghouse Electric Corporation. Little did Scott know he would spend the next four decades working under the Westinghouse umbrella, which acquired CBS Radio in 1995. During his career, Scott has been (often at the same time) the Radio and Television News Director, General Manager, Executive Vice President of Radio News, Executive Vice President of Operations, and most recently, the Chief Operating Officer of CBS Radio until it was acquired by Entercom in 2017.
QUOTES FROM BROOKLYN COLLEGE FELLOWS
"It was an honor being the IRTS Brooklyn College fellow sponsored by Scott Herman during the summer of 2015. Scott's generosity and his belief in giving back to where he came from allowed me the once in a life time opportunity to meet people who have been influential to my career development. Scott is an extremely humble and warm soul in addition to his tremendous success and prestige. He really believes in seeing his fellows succeed even beyond the fellowship and that's what defines him as a true leader and steward. I couldn't have asked for a better sponsor. Thank you for everything Scott!"
Ashley Schwartz-Lavares
Class of '15
Associate Producer, ABC News Live
ABC News, The Walt Disney Company
---
"The IRTS Summer Fellowship opened my eyes to all of the different jobs and faces of the media industry I had previously never been exposed to. In my first meeting with Scott, he reassured me of the special place I could now call home within IRTS, a revolving door of support and guidance for the rest of my life. The summer experience confirmed my desire to pursue a job in the media and I have no doubt I will be able to trace my future success back to the summer fellowship."
Michael Tatar
Class of '17
Reporter
WTAP
"IRTS was my golden ticket in radio and Scott gave me my first shot. He brought me into CBS Radio as a junior at Brooklyn College and I took off. He is like a father figure to me. Because of Scott I was able to be mentored by the best radio jocks in New York City. He always looked out for me. One Brooklyn College Radio alum to another. Not only did Scott's fellowship help me break into the radio industry, but he paid part of my college tuition senior year. I am blessed to call Scott my friend. I wouldn't be on the path that I am now if it wasn't for Scott and everything I learned from IRTS."
Carlos Montañez
Class of '14
Operations Coordinator & Producer
Cumulus media
---
"Scott's great at listening to people. Whenever we had a second to catch up, Scott would take the time to discuss every little opportunity with me. Even when it was just something like an overnight gig, Scott would always encourage me to go for it! He was always great at pointing out the value in all things, large or small. Scott taught me to seize every moment and learn how to grow from it. I guess as a Scott would say or see it, he's just a Brooklyn guy, keeping a Brooklyn mentality."
Cara Warren
Class of '12
Sales Representative
Isigny Ste Mére
Previous Fellows Sponsored by Scott Herman
2019
Name: Maruful Hossain
Internship: Entercom
Current Job: WFAN Producer & Board Operator, Entercom
2018
Name: Shannese Charles
Internship: Entercom
Current Job: Integrated Marketing Executive Assistant, ViacomCBS
2017
Name: Michael Tatar
Internship: WCBS News Radio 880
Current Job:Reporter, WTOL 11
2016
Name: KaraAnne Galante
Internship: CBS Radio, WFAN
Current Job: Sales Promotion Manager, SportsNet New York (SNY)
2015
Name: Ashley Schwartz-Lavares
Internship: CBS Radio
Current Job: Associate Producer, ABC News Live, ABC News
2014
Name: Carlos Montañez
Internship: CBS Radio, WFAN
Current Job: Operations Coordinator & Producer, Cumulus Media
2013
Name: Corey Davis
Internship: CBS Radio
Current Job: Enterprise Advocate, Trello, Atlassian
2012
Name: Cara Warren
Internship: CBS Radio, Fresh 102.7 FM
Current Job: Sales Representative, Isigny Ste Mére