The IRTS Todd Siegel Fellow Sponsored by Bruce Lefkowitz
IRTS is thrilled to announce Bruce Lefkowitz will be sponsoring an IRTS Summer Fellow in honor of mentors. To date, Bruce has named his sponsored Fellowship in honor Michael Brochstein, Joe Cohen, Lou LaTorre, David Levy, and Todd Siegel, all of whom have been mentors to Bruce throughout his career. In addition to being an ad sales powerhouse as the former EVP of Ad Sales at Fox Networks Group, longtime member of the IRTS Board of Directors, and basketball legend at the University of Pennsylvania, Bruce is also a champion of mentorship within the industry.
The IRTS Summer Fellowship Program has had a key role in launching the careers of top professionals in the media business for more than 45 years. University students competitively apply for this nine-week, expense-paid opportunity that includes travel, accommodations, and a paid full-time internship at an assigned media company. The program begins with a comprehensive one-week orientation to the industry during which Fellows have a rare opportunity to question a stellar line-up of industry leaders during company visits, panel discussions, and negotiation simulations. Throughout the summer, Fellows also learn how to successfully network by attending industry events and by conducting informational interviews with executives. The IRTS provides extensive career counseling and weekly after-work seminars throughout the experience.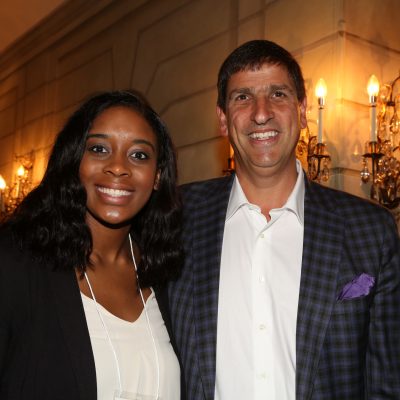 "Besides being one of the greatest to ever play basketball at Penn, Bruce Lefkowitz is the most energetic, passionate, selfless person I know. I am beyond grateful to call Bruce my mentor."
"Bruce's generosity opened the door, he is one of the kindest people you will meet. I will always be grateful to Bruce for helping me get my start in the media industry."
"To mentor, to give back and provide an opportunity for someone is one of the most fulfilling experiences of my career. It's the right thing to do, it's what was done for me."
BRUCE LEFKOWITZ is a graduate of the University of Pennsylvania, Vice Chairman of the IRTS Foundation, former Executive Vice President of Ad Sales at Fox Networks Group, and current Founder & President of Six Pack Media LLC. During his time as an undergrad at the University of Pennsylvania, Bruce was a star member, later captain, of UPenn's basketball team. He is one of the university's top- ranking players of all-time, and went on to play professional basketball for a few years before joining the media industry.
Anyone who has spoken with Bruce may have heard him recall he owes his life, his wife, and his six children to his first internship at ESPN over twenty years ago. The current EVP has been an MVP of ad sales ever since, having worked as the Vice President of Sales at Time Warner/Turner Broadcasting and Senior Vice President at Discovery Networks before moving to Fox in 2002.
INVOLVEMENT WITH IRTS
Bruce has made hundreds of lasting connections throughout the course of his career, one of which, we are happy to say, led him to become involved with IRTS and its Board of Directors. On occasion, Bruce would host "Breakfast with Bruce" sessions, mentoring students in a group setting by providing insights and answering questions on the media industry. He continues the tradition by providing the incoming class of IRTS Summer Fellows a warm welcome over breakfast each year, oftentimes during the Fellows' orientation week.
Bruce always found himself impressed with the caliber of students selected for the IRTS Summer Fellowship and, in an effort to give back, chose to personally sponsor a fellow in 2015. However, Bruce humbly chose not to sponsor a fellow in his name, but in the name of mentors he has had during his career. When asked why, Bruce explained that while he wanted to give back to the industry, "people have made more of a difference in my life and career than any single company." In providing access, opportunity, and mentorship to a young, up-and-coming media professional, Bruce feels that he is providing a "small" thank-you to his mentors for all they have given him through the years. To date, Bruce has sponsored a fellow in honor of Michael Brochstein, Joe Cohen, Lou LaTorre, David Levy, and Todd Siegel.
Bruce's continued investment in IRTS, both as an active Board Member as well as his sponsoring of a Fellow, is due to his conviction that IRTS Summer Fellows are the future of the industry. In providing Fellows with the chance to explore their industry passions and curiosity, they become educated about their likes and, more importantly, their dislikes for certain careers. By learning about and seizing the opportunities you have the most enthusiasm for, Bruce believes Fellows can follow his credo of working to live, and not living to work.
Quotes from Fellows Sponsored by Bruce Lefkowitz
"Besides being one of the greatest to ever play at Penn, Bruce Lefkowitz is the most energetic, passionate, selfless person I know. After reflecting on the amazing summer I had with IRTS and Fox, I am so happy I was able to form a relationship with Bruce. He is always willing to help anyone and provides the best advice. He just really cares about people. After Hurricane Harvey, he was one of the first people to reach out to me to make sure that my family in Houston was doing okay. He didn't have to, but he did and I think that truly shows his character. I am beyond grateful to call Bruce my mentor."
Michelle Nwokedi
Class of '17
Account Associate
Fox Networks
"Without IRTS I wouldn't be where I am today. Bruce's generosity opened the door to my internship at Turner, as well as the internships that followed and my first job. Bruce is one of the kindest people you will meet. Though he's very high up, he's never intimidating and makes everyone feel at ease. From our first interaction, Bruce made sure I knew he was available whenever I had questions or needed advice throughout the summer and following the fellowship. The skills I learned that summer and the connections I made were extremely important and I will always be grateful to Bruce for helping me get my start in the media industry."
Andreea Arama
Class of '15
Sales Planner
WarnerMedia (Turner)
Previous Fellows Sponsored by Bruce Lefkowitz
2019
The Todd Siegel Fellow
Name: Kendra Williams
School: University of Pennsylvania
Internship: Nickelodeon
2018
The David Levy Fellow
Name: Deja Jackson
School: University of Pennsylvania
Internship: Turner
Current Job: Digital Account Coordinator, WarnerMedia (Turner Sports)
2017
The Lou LaTorre Fellow
Name: Michelle Nwokedi
School: University of Pennsylvania
Internship: Fox Networks Ad Sales
Current Job: Account Manager, Fox Networks
2016
The Joe Cohen Fellow
Name: John Byon
School: University of Pennsylvania
Internship: Initiative
Current Job: Growth Operations, Opendoor
2015
The Michael Brochstein Fellow
Name: Andreea Arama
School: Queens College
Internship: Turner Entertainment Ad Sales
Current Job: Sales Planner, WarnerMedia (Turner)