The IRTS City College of New York Fellow Sponsored by Betsy Frank
IRTS is thrilled to name this Fellowship in honor of Betsy Frank, a titan of the media research field and longtime member of the IRTS Board of Directors. Betsy, a veteran of the industry, embodies all of the characteristics we hope to imbue our Summer Fellows with: creativity, kindness, tenacity, and more. A firm believer in giving back to where you came from and following your curiosity, Betsy sponsors this Fellowship in the hopes of providing a City College of New York student with the opportunity to chase their ideas and explore all the possibilities the media industry has to offer.
The IRTS Summer Fellowship Program has had a key role in launching the careers of top professionals in the media business for more than 45 years. University students competitively apply for this nine-week, expense-paid opportunity that includes travel, accommodations, and a paid full-time internship at an assigned media company. The program begins with a comprehensive one-week orientation to the industry during which Fellows have a rare opportunity to question a stellar line-up of industry leaders during company visits, panel discussions, and negotiation simulations. Throughout the summer, Fellows also learn how to successfully network by attending industry events and by conducting informational interviews with executives. The IRTS provides extensive career counseling and weekly after-work seminars throughout the experience.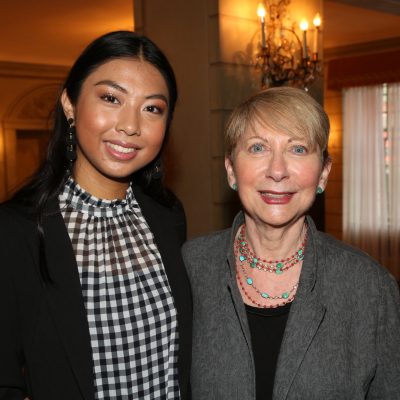 "I was lucky enough to have Betsy Frank as my sponsor, and she is one of the most inspirational, kind, and well-respected women in the industry."
"Her experience, generosity and unconditional kindness motivate me to work hard so that I may one day have a similar effect on someone as she has had on me."
"There is nothing that comes close to the IRTS."
BETSY FRANK is a graduate of City College of New York, the Master's Program at Hunter's University, and a notable visionary in her field of media research.  Betsy, initially an art history major, explains that her career in media was a happy accident because at the time, "No one in art was hiring." Thankfully for us, Dancer-Fitzgerald-Sample (which would later be known as Saatchi & Saatchi, then Zenith Media) was hiring, and thus began Betsy's nearly forty-year career in the media-research industry.
In her almost twenty years with Zenith Media, Betsy led all research during the transition from broadcast TV to cable, traditional media to new technologies, and full-service advertising agencies to media specialists. She next went on to have successful and extended tenures at both Viacom, as their EVP of Research & Planning, and later at Time Inc., as their Chief Research & Insights Officer. Betsy currently serves as the Principal of her own research, media, advertising, and communications consulting company: Betsy Frank Insights LLC. In addition, she has taught courses at both City College of New York and New York University.
INVOLVEMENT WITH IRTS
Betsy has been a member of the IRTS Board of Directors for over twenty years. She has remained an active part of IRTS for so long because, as she puts "there is nothing that comes close to the success of the IRTS Foundation's mission of diversity and media education." Moreover, Betsy believes that the IRTS Summer Fellowship Program, for which she has become a personal sponsor, is the most important program IRTS runs.
However, after years of interacting with the impressive individuals taking part in the Summer Fellowship, Betsy noticed that public and state universities were not well represented amongst the program's participants. After speaking with Scott Herman, her fellow board member and sponsor of the IRTS Brooklyn College Fellow, Betsy was inspired to sponsor a fellow from her public-institution alma mater, City College of New York, in an effort to give back to her community and encourage more open-minded, local students to explore the industry.
Her continued confidence in the IRTS Summer Fellowship Program stems from her belief that it is essential for young professionals to be exposed to different opportunities in the media industry. Conversely to that point, is Betsy's conviction that the media industry needs to make itself more available to a diverse set of young professionals. While many organizations have now come to a similar conclusion, Betsy believes that most do not understand how to reach their diversity and mentorship goals successfully: the IRTS does.
Quotes from City College of New York Fellows
"The IRTS Foundation is an incredible opportunity to meet future media leaders and leaders in general. I was lucky enough to have Betsy Frank as my sponsor, and she is one of the most inspirational, kind, and well-respected women in the industry. Through Betsy, IRTS, and all the friends I've made, I've created connections that I will carry throughout the rest of my life."
Ariana Yaptangco
Class of '17
Student
CCNY
"Entering the media industry in New York City is both an exciting and scary experience.  Fortunately, IRTS has made my journey more exciting than scary.  I can count on the IRTS family for both advice and friendship, and it started with my sponsor, Betsy.  Her experience, generosity and unconditional kindness motivate me to work hard so that I may one day have a similar effect on someone as she has had on me."
Brendan Shyrer
Class of '16
Strategist
Y&R
"I'm grateful to Betsy Frank for providing me and students from my alma mater the opportunity to be IRTS Summer Fellows. During my summer, I had the chance to meet with Betsy and learn of her distinguished and inspiring career as a leader in media. My IRTS experiences, of interning in media and strong mentorship, helped me craft my career direction working in advertising."
Brianna Wernz
Class of '14
Account Executive
Grey NY
"The IRTS fellowship truly gave me a head-start in the media industry; I'm so thankful to Betsy for providing me with such a privilege."
Lamique Farrell
Class of '15
Assistant Account Executive
Cohn & Wolfe
Previous Fellows Sponsored by Betsy Frank
2018
Name: Sarai Ortiz
School: City College of New York
Internship: EPIX Entertainment
2017
Name: Arianna Yaptangco
School: City College of New York
Internship: ELLE Magazine
Current Job: Social Media Editor, ELLE.com
2016
Name: Brendan Shyrer
School: City College of New York
Internship: Y&R
Current Job: Strategic Planner, ZS Associates
2015
Name: Lamique Farrell
School: City College of New York
Internship: Giant Spoon
Current Job: Assistant Account Executive, Cohn & Wolfe
2014
Name: Brianna Wernz
School: City College of New York
Internship: BPN
Current Job: Freelance Brand Marketer