IRTS Fellowship Sponsored by Rajah Maples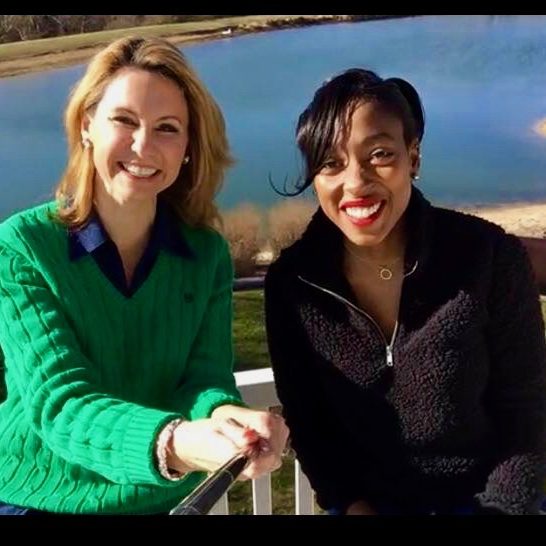 "IRTS was the best experience I could have had right out of college… it was where I got my start behind the scenes."
"Rajah made me realize that not only are there people who care and are invested in the goals and dreams of others, but that IRTS is, truly, a family."
IRTS is thrilled to name this Fellowship in honor of Rajah Maples, a 1997 graduate of the IRTS Summer Fellowship Program and current member of the IRTS Board of Directors. Rajah, a former Fellow herself, embodies all of the characteristics we hope to imbue our Summer Fellows with: dedication, generosity, mentorship, and more. A firm believer in giving back to where you came from, Rajah sponsors this Fellowship in the hopes of providing a student with the same life changing opportunity she experienced during her IRTS Summer Fellowship.
The IRTS Summer Fellowship Program has had a key role in launching the careers of top professionals in the media business, such as Rajah, for more than 45 years. University students competitively apply for this nine-week, expense-paid opportunity that includes travel, accommodations, and a paid full-time internship at an assigned media company. The program begins with a comprehensive one-week orientation to the industry during which Fellows have a rare opportunity to question a stellar line-up of industry leaders during company visits, panel discussions, and negotiation simulations. Throughout the summer, Fellows also learn how to successfully network by attending industry events and by conducting informational interviews with executives. The IRTS provides extensive career counseling and weekly after-work seminars throughout the experience.
RAJAH MAPLES is a graduate of Stephens College, the University of Missouri- Columbia, and the 1997 IRTS Summer Fellowship Program. She has been an active member of the broadcast journalism community and IRTS family for well over two decades. During which time, Rajah has worked with industry legends, corresponded with world leaders, covered national news stories, and received multiple awards for her work in journalism. She is also involved with multiple media and broadcast organizations, including the IRTS Board of Directors, Stephens College Alumnae Association Board, Illinois News Broadcast Association, Iowa Broadcast News Association, Investigative Reporters & Editors, Mid-America chapter of NATAS, and Griffith's Leadership Society for Women at Mizzou.
In addition to her role with IRTS, Rajah is currently a reporter, anchor and multimedia journalist for KHQA (CBS & ABC) in Quincy, Illinois. In her twelve years with KHQA thus far, Rajah has covered the Ferguson protests, the presidential campaigns of Hillary Clinton, Joe Biden, and Donald Trump, Tri-State dignitary visits, and appeared on CBS' "The Early Show" to report on the Mississippi River flooding. She is also an adjunct professor at Culver-Stockton College.
During her time as a student in college, Rajah studied mass communication and later, journalism. She was encouraged by one of her professors to apply for the IRTS Summer Fellowship Program, where she was accepted and interned as a production assistant for NBC's "The Today Show." During her IRTS internship, Rajah worked for legends such as Katie Couric, Al Roker, and Matt Lauer producing segments, writing in the newsroom, and even composing letters for peace on behalf of NBC to Netanyahu and Yasser Arafat.
Looking back on her experience with IRTS, Rajah has stated that she will, "never forget to pay it forward to help other future broadcaster's dreams come true, just as others did for me."
True to her word as a journalist, Rajah has never forgotten to pay it forward, and has helped bring the dreams of many aspiring broadcast journalists into fruition through her sponsorship of an IRTS Fellow and other efforts within the industry. She encourages all young professionals to always be willing to learn, even if it means being wrong on occasion. Rajah would also remind IRTS Fellows that they stand on the shoulders of those who came before them, and as such should always remember to give back to their community; whether it be through their resources, their network, or even just some of their time.
Quotes About the IRTS Fellowship Program from Fellows Sponsored by Rajah Maples
"Growing up, my mother always told me that if you do good by others, God will bless you. That blessing could come in any shape, form, or manner and more often than not we are never truly ready to receive it.
Rajah Maples was my blessing.
I was able to spend the greatest summer of my life in New York because she put so much on the line for someone she did not even know. Having been there herself, I was sure Rajah could relate to how elated I was being a Summer Fellow, and I contacted her simply to thank her for allowing me to live out part of my dream in NYC. This was only the beginning of the relationship we would come to build.
Later in the summer Rajah was gracious enough to travel to New York to meet all of the fellows, including a private meeting with me. I will never forget walking into IRTS to meet the woman that I owed so much to. To this day I am still so grateful.
Rajah made me realize that not only are there people who care and are invested in the goals and dreams of others, but that IRTS is, truly, a family. A family willing to give back and help others along the way. A family that I am so blessed to be a part of."
Braxton Jones
Class of '16
Reporter
KWCH12 TV
"In 2017, I was fortunate enough to become an IRTS fellow. As a part of the program, I had the wonderful opportunity to intern at NBC Nightly News with Lester Holt. The day I received the call from a NBC Nightly News producer informing me that I got the job was the day that changed my life forever.
Two-months spent in New York, the city that never sleeps, opened my eyes to bigger opportunities. Working at NBC Nightly News helped me grow as a journalist. I was able to pick the brains of those who were once in my shoes, and it inspired me to continue reaching toward my goals.
Everything I experienced this summer has changed me for the best. I am forever grateful for this opportunity I received and plan on maximizing every skill I learned going forward.
Thank you so much to Rajah, the IRTS board and everyone who had a hand in making this possible for my fellowship peers and I. You all are truly selfless and wonderful souls. As I continue to grow and begin excelling in my career I will never forget to advocate for this exceptional fellowship program."
Treasure Roberts
Class of '17
Reporter
WMBD-TV Channel 31
Previous Fellows Sponsored by Rajah Maples
2019
The Elizabeth Clark Fellow
Name: Cecil Hannibal
School: University of Southern California
Internship: CBS National News
2018
Joyce Tudryn 35th Anniversary Fellow
Name: Kalyn Des Jardins
School: Syracuse University
Internship: Horizon Media
Current Job: Analyst, NBCUniversal
2018
Name: Leondra Head
School: Hampton University
Internship: MSNBC
Current Job: Morning News Anchor, CBS 19
2017
Name: Treasure Roberts
School: Michigan State University
Internship: NBC Nightly News with Lester Holt
Current Job: Reporter, WMBD-TV Channel 31
2016
Name: Braxton Jones
School: Kansas State University
Internship: Reporter
Current Job: KWCH12 TV